Welcome to Mattawan Candy Company!
We're glad you found us. Whether you're a kid, or a kid at heart, we strive to provide that nostalgic kid-in-a-candy-store feeling for all!
Our love of sweet treats had us wishing for the old fashioned candy store experience from our childhood, and Mattawan Candy Company was born.  
Located in Mattawan, Michigan, we offer over 150 bulk candy options where you can pick and choose your favorites, and serve yourself as much as you'd like. We also offer a selection of packaged candy, old fashioned treats, and classic favorites. Supporting small businesses is a passion of ours, and we are thrilled to feature several locally made confections as well. 
We hope you'll stop by to see us in person and maybe you'll find something sweet to enjoy!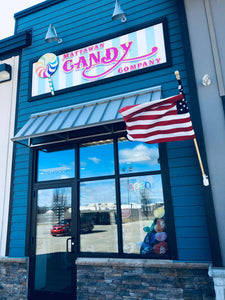 Proudly located in the heart of Mattawan, Michigan
Store Hours:
Sunday & Monday - CLOSED
Tuesday - Saturday 11am - 6pm
Come visit us at McGillen's Crossing
23920 City Center Circle Mattawan, MI 49071